Hi from Warsaw,

As I write these words, the number of casualties in the recent earthquake has reached 37, 000 people. For weeks to come, we will be wondering whether one of the greatest humanitarian catastrophes of recent decades could have been avoided if, for example, Turkish houses had been more solidly constructed.

But the tragedy has unleashed a great deal of solidarity among the world community. Germany has lifted visa requirements for Syrian victims. The Greeks rushed to the aid of the Turks, although there is no shortage of tension between the two countries on a daily basis.

In this issue of European Focus, we look at how Europe is dealing with humanitarian aid and natural disaster prevention. Even though there are open borders between EU countries, are we ready to work together? And is it sometimes the case that, like Germany, we can generously help others, but cannot deal with our own problems?

I invite you to read on!

Michał Kokot, this week's Editor-in-Chief
Solidarity among the ruins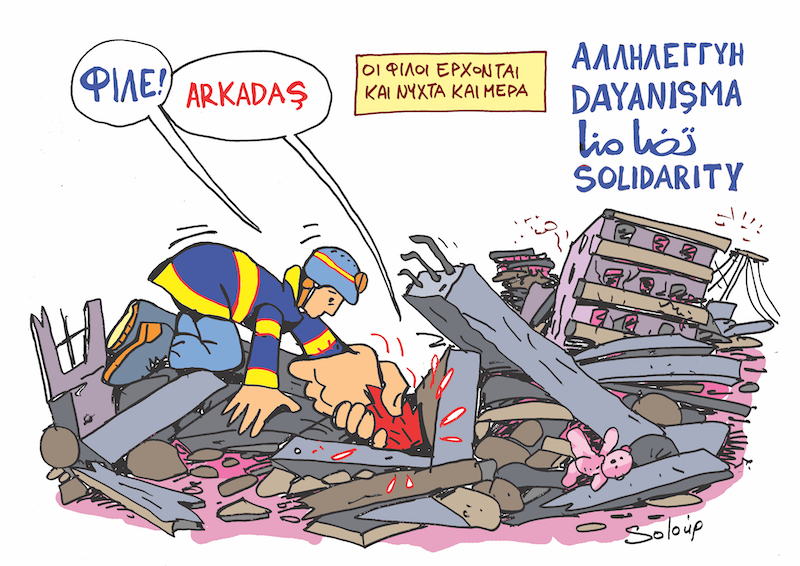 The tragedy in Turkey has shocked its neighbours and the rest of the world. In Greek cities like Athens and Thessaloniki, volunteers collected food, clothes for adults and babies, first aid kits, painkillers and other medicine, blankets, sleeping bags and cash to send to the affected zones. By last Thursday, Greece has sent 90 tonnes of aid to Turkey.
The deadly earthquake of 6 February cost the lives of more than 37,000 people. This reminded me of the deadly earthquake of 1999 in both countries. In Turkey, 17,000 people died in that incident, and 143 in Athens. Greek and Turkish rescue teams worked together. Then as now, the Greek and Turkish foreign ministers met and spoke warmly, giving hope for a change in the relations between the two countries.
In the same spirit, people on Facebook, Twitter, and Instagram are posting photos of Greek and Turkish rescue teams joining forces, or Greeks retrieving survivors from the ruins.
Greek media detailing the tragedy includes headlines such as "Wave of solidarity for the people in Turkey", "Humanitarian aid collection points for the earthquake victims in Turkey-Syria"and "The thanks of the Turks on social media for the help of Greece."
The solidarity between the two countries has become breaking news in the west. The foreign press speaks about a new era between these two old "enemies". They often forget or do not know the history of these countries. Beyond the wars, the differences, the nationalism and its instrumentalisation for political gain, are the people.
The diplomatic history between Greece and Turkey is complex and controversial. For a reader trying to grapple with the intricacies, it develops like a spiral that drags you down and crash-lands you. Beyond and above politics are people; they always are, regardless of whether many forget this.
Thanks for reading the 19th edition of European Focus,

As you can see there is still much to be done when it comes to managing humanitarian aid. There are problems especially in countries at war where access is difficult. It remains to be seen whether Europeans will learn lessons from current events.

We look forward to your comments.

See you next Wednesday!

Michał Kokot