Hi from Berlin,

Winter is almost over, and the apocalypse didn't happen. That was the working title we jokingly chose last Wednesday when we brainstormed on this issue.

Social unrest, large-scale blackouts and no heating in freezing homes were some of the worries we heard last summer about the impending cold season. They were not making us feel cosy at all. It seemed that Europe was simply tooooo addicted to Russian energy supplies.

Bad things did take place, but the worst case scenarios didn't come true. Maybe partially, because governments have done a sufficient job in helping society cope with the challenges, including inflation. Also, maybe we were not as hooked on Putin's hydrocarbons as we first thought.

However, some governments apparently haven't cared in the same way about other existential worries which might cause unrest, as we see in Germany. Furthermore, some fears may have been welcomed by sectors which do not have a mission to protect peace, such as the nuclear lobby.

Which means: More apocalypses are yet to come, climatewise or nuclearwise. But for now, we have escaped from this winter alive.

Teresa Roelcke

this week's Editor-in-Chief
Far-right losing energy bet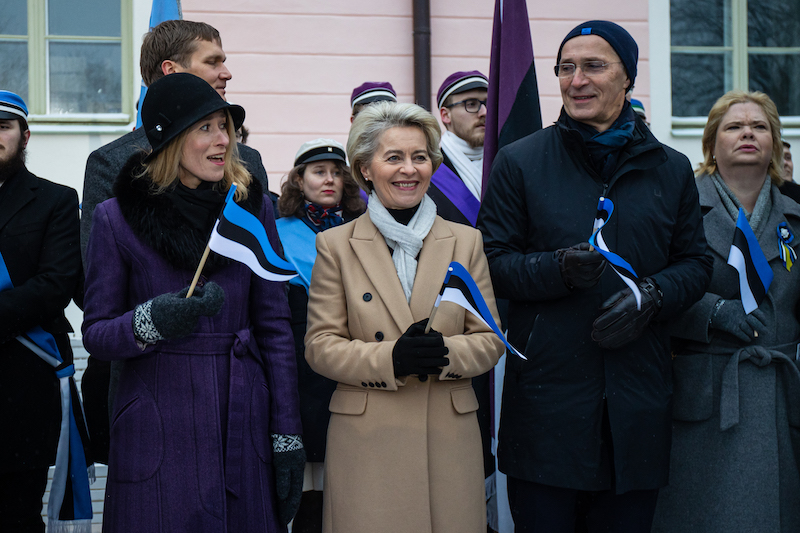 In October, we wrote of a possible new far-right prime minister emerging on the continent. Martin Helme's Estonian National Conservative (EKRE) party was breaking records in public support "with no ceiling in sight", ahead of elections on 5 March this year. Now it appears he has smacked his head on the roof.
Before the start of Russia's full-scale invasion of Ukraine on 24 February 2022, EKRE was the leading party in the polls, and the struggling prime minister Kaja Kallas of the centre-right liberal Reform Party was scrambling to hold onto her position.
The 24th of February also happens to be Estonia's Independence Day. This made the start of the invasion especially dramatic. This country, too, had been occupied by Russia. The prime minister's numerous Putin-bashing appearances in international media over the past year have boosted her domestic political standing.
But the more energy prices soared, the better Helme's party performed against Kallas's liberals. In their adverts, EKRE proclaimed: "We will save Estonia!" Their campaign bet on crippling energy prices that never happened, because of the milder-than-usual winter.
Martin Helme has tried blaming high energy prices on Kaja Kallas and Ursula von der Leyen. On 24 February this year, a grinning Kallas celebrated Estonia's 105th Independence Day with von der Leyen herself, and NATO chief Jens Stoltenberg in Tallinn. Kallas knows that these "globalists" standing beside her irritate Helme and EKRE, but bolsters her own support.
Helme had been betting on an energy weapon that has been firing blanks. At times, the market prices were even lower than the government rate, which were designed for customers who prefer stable costs.
The chances of a far-right Estonian prime minister are not dead in the water. But as we enter the last week of the campaign, it is Helme's pro-European arch-nemesis who is all smiles.
Thanks for reading the 21st edition of European Focus,

Maybe the last sentences of the last contribution to this issue were the most important ones, reminding us to hold back our fascination and not give in to the horrific possibilities that we don't want to see happening.

Things can get brighter. And spring is almost here.

See you next Wednesday!

Teresa Roelcke