Hi from Warsaw,


a few days ago, we celebrated International Transgender Day of Visibility, which raises awareness of discrimination faced by transgender people worldwide. This week, we decided to look at the situation of LGBTQ people in different European countries. The conclusion: the rights of this community are increasingly being respected in Europe.


The frontrunner is Spain. Nowadays, to change your gender on your identity card here, all you have to do is go to an office and wait a few months.


Even in Poland, while politicians still try to divide society by targeting the LGBTQ community, the majority of the population is in favour of many rights for sexual minorities.


The fastest changes are taking place in Ukraine, as the war is forcing people to take a more pragmatic attitude. Gays and lesbians are fighting side by side on the frontline with heterosexuals. They feel that they are just as full-fledged soldiers as them.


After all, it's only about love, and that leaves no choice. We invite you to read our 26th European Focus newsletter!

Michał Kokot, this week's Editor-in-Chief
Can homophobia still win elections?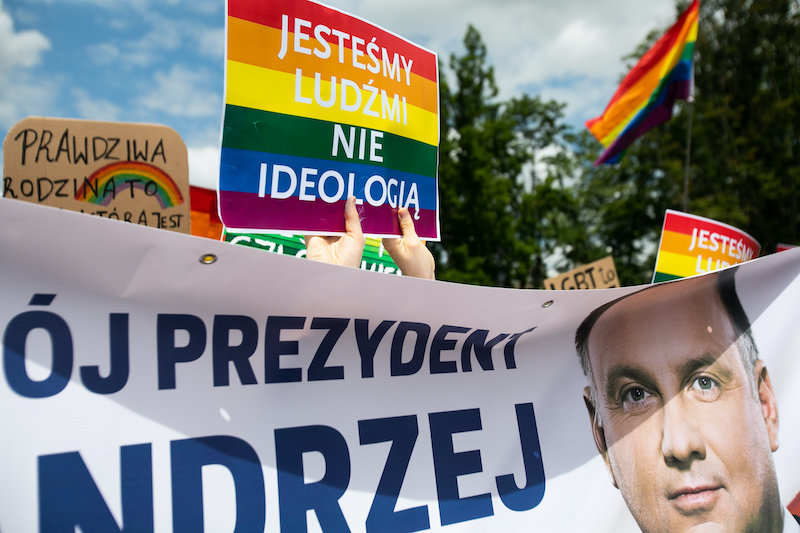 "Gender ideology and the LGBT movement threaten the identity, the nation, its continuance and the Polish state" – Jaroslaw Kaczynski, chairman of Poland's ruling right-wing and populist Law and Justice (PiS) party, said in 2019.
In June 2020, during the campaign for the presidential election, President Andrzej Duda, who hails from PiS and was standing for re-election, also spoke on this issue: "They try to tell us that [LGBT] are people, but it is an ideology."
These are examples of homophobic hate speech used by major Polish politicians in the parliamentary (2019) and presidential (2020) campaigns. Both were won by PiS and Duda.
But this triggered a counter-effect. What followed were mass coming-outs by the young all over the country, not just in big liberal cities. Many PiS voters have realised that this was not due to "LGBT ideology", it was their gay, lesbian, transgender children or grandchildren realising their identities.
Paradoxically, those homophobic campaigns, cynically unleashed for political gains, were a wake-up call for many Poles. In 2022 Poland saw record support for at least civil unions of same-sex couples – 64 percent are in favour of them.
It seems Poles have found a social consensus, but society lacks the political will to change. The ruling PiS party will refuse to pass a law supporting LGBT people. But even those politicians are aware of this social shift. The topic of "LGBT ideology" has already disappeared from their political agenda.
Poland's parliamentary election will be held in autumn. The two main opposition parties – Civic Platform and Poland 2050 – have announced the introduction of civil unions. The third one – New Left – supports marriage equality. It depends on this election whether the Polish authorities will finally begin to respect human rights, or whether Poland, however, will continue to resemble Putin's Russia.
Thank you for reading the 26th edition of European Focus,

Decades have passed since the first people started fighting for gay and lesbian rights and later for the entire LGBTQ community in the US. Nowadays, however, social change is happening so fast that we may not have to wait so long.

Which is what I wish for all Europeans.

See you in two weeks!

Michał Kokot